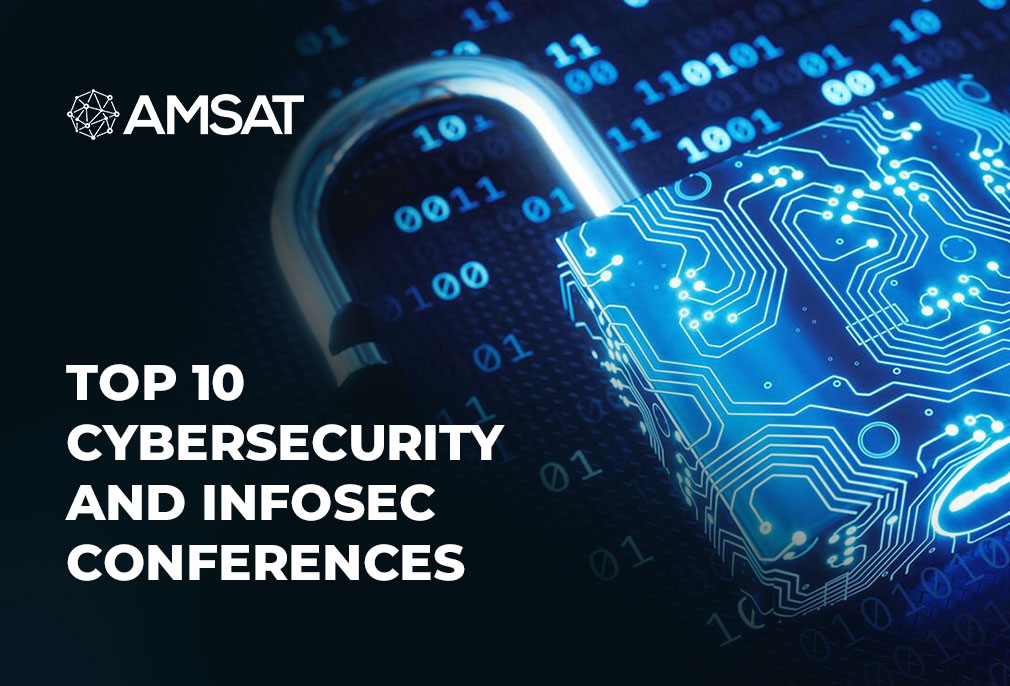 Top 10 Cybersecurity and Infosec Conferences
Global cybersecurity safeguards the infrastructure of international initiatives and economies, ensuring the prosperity and security of citizens globally. With the swift expansion of the Internet of Things devices, and an exponential rise in connectivity and usage of cloud services, events related to cybersecurity such as hacking, data breaks, and infrastructure fiddling have become too ubiquitous. 
Global cybersecurity meetings are an opportunity for stakeholders to deal with these issues and formulate policies to defend against attacks and spread knowledge on new cybersecurity policies and actions.
Benefits of Attending a Cybersecurity Conference
Conferences are a vital part of any industry, which let you meet and network with your peers in a casual setting, increase your professional network and stay on top of all the latest trends and ideas in your industry. Some of the other key benefits of attending a cybersecurity conference include:
Education on new technologies
Outreach
New strategies
Pricing information
Giving back and sharing of knowledge
Finding new talent
Case studies
Top 10 cybersecurity and infosec conferences
1. DEF CON
Founded in 1993, DEF CON is one of the most famous cybersecurity conferences, bringing together budding and pastime hackers, security scientists and specialists, journalists, government employees, and anyone interested in hacking and cybersecurity act.
2. Black Hat USA
Black Hat Briefings, or simply Black Hat, is another major cybersecurity conference for infosec professionals. Founded in 1997, Black Hat has an impressive history and is a more professional cybersecurity event. Regarded as one of the most significant security conferences ever, the conference gathers infosec specialists and experts, hackers, industry leaders, executives and government organizations.
3. RSA Conference
RSA Conference, the largest cybersecurity conference in the world, is an annual event focused on helping improve cybersecurity understanding and cybersecurity ethos in organizations. The conference attracts tens of thousands of people each year from every industry to learn about cybersecurity enterprise or to network with one of the numerous vendors in presence.
4. SANS Series
Sponsored by the SANS Institute, SANS Series carries out several events around the world. It's committed to presenting practical infosec training, case studies and certificates and is led by top security experts. This cybersecurity conference allows the participants to interact with other security mavens, increase your knowledge and skills in the industry, and discuss new skills and methods. The visions provided in the summit are of a practical nature, helping you learn about new technologies you can essentially apply in your job or company.
5. Black Hat Asia
This conference is an extension to Black Hat USA, held yearly in Singapore. A number of experts throng the Marina Bay Sands to hear the excellent talks organized here. Black Hat USA 2021 will open with four days of Virtual Trainings from July 31 to August 3.
6. BSides Cybersecurity Event
Another important cybersecurity event, BSides Security, or BSides, is held in many different sites globally as a one- or two-day event. Regardless of where you reside, you can attend the conference anywhere you want. This is a more community-driven conference than the others, always open to new managers who are eager to bring this event to their place. BSides lets security specialists meet in a casual and welcoming environment and provides many people the chance to present their opinions and findings.
7. THOTCON
This cybersecurity conference is very economical thanks to its non-profit and non-commercial nature. The topics discussed at the conference range from IoT, intelligence gathering, health devices, UI, industrial control systems and more. Although it is not a popular entry on the list, the informal feel and tranquil atmosphere in which you can interact with other security experts and hackers make this IT conference a remarkably amazing experience.
8. Troopers IT Security Conference
Based in Heidelberg, Germany, this security conference comprises two-day training and a two-day session where several IT and security experts from around the globe gather to discuss current topics regarding IoT, IPv6 security, and general IT security. One of the chief focuses of this conference is that their interest lies not in product advertising and meeting vendors but in dealing with the industry's hot security issues. For this reason, this IT conference is well worth attending.
9. ShmooCon
Established by Shmoo Group, ShmooCon is a long-running and popular hacker conference which is held annually and includes over 30 security-driven presentations that deal with security topics concerning new ways of misuse, pioneering software and hardware solutions and important cybersecurity questions. A highly inclusive summit, ShmooCon focuses on anchors who don't appear at other conferences, giving them a forum to share their ideas and results, and the topics presented are equally exclusive.
10. NULLCON
Nullon is an extraordinary opportunity for everyone in India as well as visitors from around the world to participate in a truly memorable meeting. The conference is a place to enhance knowledge about new skills and vulnerabilities, where you can test your knowledge in a hacking event called "Desi Jugaad" which invites you to vie with other experts in cracking real-life hacking encounters. All presentations of the event are available online, so even if you're unable to attend personally, you can ensure your presence virtually.
Ready to
Get Started?
Our specialists are ready to tailor our security service solutions to fit the needs of your organization.