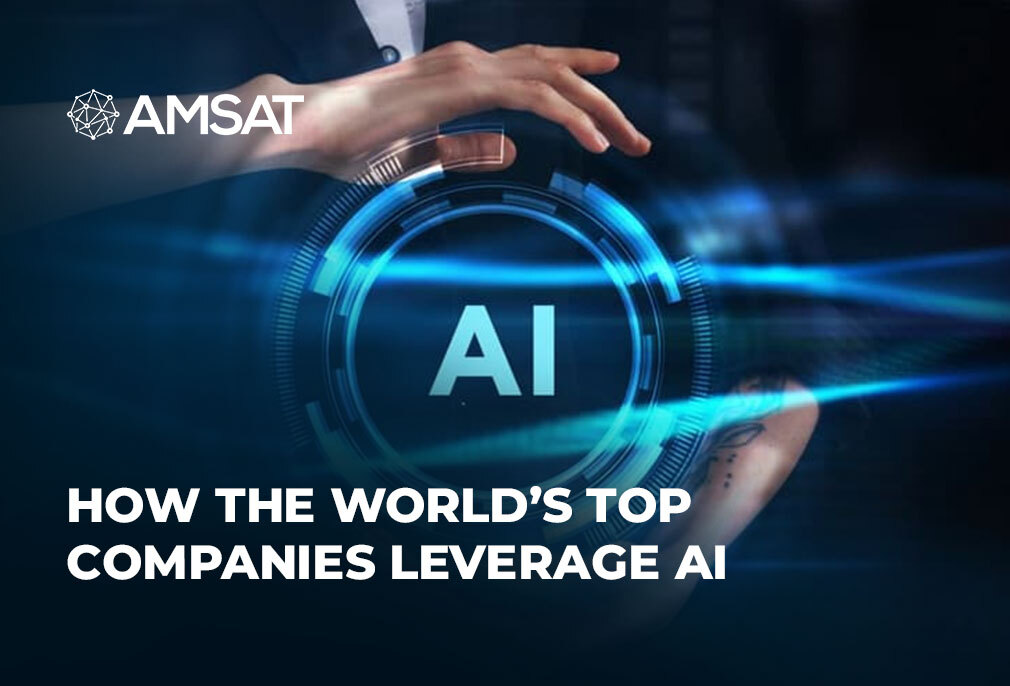 How the World's Top Companies Leverage AI
Companies that don't concentrate on one AI goal at a time typically have higher returns on investment. As an alternative, they are simultaneously improving AI in three areas: corporate transformation, improved decision-making, and modernized systems and procedures. A decent 36% of enterprises emphasize these three goals as part of a more comprehensive approach to AI, which makes them more prosperous than companies that merely pay attention to one objective.
These AI leaders gather their top performers from around the company and adopt a collaborative approach to AI. To better agree on goals for AI projects, they bring together analytics teams, software engineers, and data scientists. In addition, this strategy can assist organizations in getting their initiatives off to the correct start and delivering significant value at acceptable costs: Automation increases productivity for 44% of AI executives, and 40% of them use AI to innovate their goods and services.
In the past, data science and AI projects were carried out in silos throughout the organization. Because the projects weren't sponsored by corporate executives who understood AI or because the teams didn't have full access to the necessary data, this frequently resulted in subpar outcomes.
This holistic approach's requirement that businesses invest in and manage data, AI, and cloud as a single unit is one of its most important components. To make data readily available, improve data literacy and governance, enable data science, and engage the business in transformation powered by data and AI, leaders in the field of artificial intelligence frequently design new roles.
AI has a variety of advantages for businesses when it is used appropriately. However, despite AI's infinite potential to enhance business operations, it also poses risk. It is crucial for businesses to comprehend what their AI is doing and why.
Organizations must be able to manage and keep an eye on AI technologies if they are to truly comprehend AI. Companies are at varying phases of the journey, despite the fact that they are aware of the necessity to adopt AI properly.
What ethical AI implies for companies
The ethical and moral issues that AI may provide, such as bias, privacy violations, and the possibility of job losses due to automation, must be taken into account even as more and more businesses employ AI and profit from it.
Responsible AI is a set of guidelines and procedures that direct the moral creation and application of AI systems. Companies that use ethical AI practices can test their AI models for robustness, bias, fairness, and transparency. Explainability is the ability for humans to understand how an algorithm arrived at a decision or recommendation.
Additionally, risk and business specialists might lack the technical expertise to forecast how increasingly complicated algorithms will behave as conditions change. Consequently, governance and protection must change since AI constantly refines its judgement based on fresh facts.
Implemented properly, responsible AI governance provides enterprises with escalation processes, checks, and balances when evaluating and validating AI models. Nevertheless, not all businesses are going to implement their responsible AI objectives, despite the fact that almost all of them do.
Furthermore, despite progress, there is still potential for growth in the field of holistic AI leaders. For instance, in 2022, 57% of executives intend to validate that their AI complies with laws, but only 41% intend to examine external AI services to make sure they adhere to standards.
How to ethically implement AI
Here are a few ways businesses may use AI responsibly:
Govern the life cycle: Organizations must adopt end-to-end governance of the data/AI/cloud life cycle in order to stay up with rapidly evolving AI models. To do this, new processes, roles, and responsibilities for each line of defence must be integrated with risk, artificial intelligence, and business executives. However, many business and risk leaders may need to grasp some of the fundamentals of AI and data science in order to implement and improve existing IT governance and controls.
Assess the impact: Companies should assess the end-to-end AI life cycle to capture risk, identify governance needs, boost accountability, and facilitate go/no-go decisions in order to support the work of integrated teams and life-cycle governance.
Reduce bias: To ensure that AI is secure and performs as intended, many organizations are now concentrating on the fundamentals of responsible AI. To ensure that their AI models treat all of their stakeholders fairly, firms will need to uncover and reduce AI bias as AI continues to enable more business-critical decision making.
Final Thoughts
Organizations should adopt a more comprehensive approach to AI in order to lead the field, focusing on three business objectives: business transformation, improved decision-making, and modernized systems and processes. Businesses that follow this path will prosper more than those who choose a solitary strategy. However, it's also crucial for businesses to assess their current procedures or develop new ones in order to develop technology and use data in a responsible and ethical manner.
Ready to
Get Started?
Our specialists are ready to tailor our security service solutions to fit the needs of your organization.